Stories from the community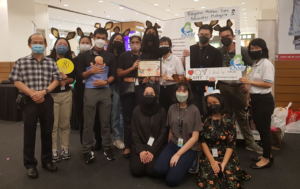 Advocating KMC as a volunteer student for World Breastfeeding Week 2022
My experience advocating for Kangaroo Mother Care (KMC) during World Breastfeeding Week 2022 was nothing short of an amazing encounter! RUMC together with the Kangaroo Mother Care Advocates Malaysia (KAMY) were promoting the KMC method, which we students learned during our Paediatrics posting in our 4th year.
Personally, I was tasked with promoting Kangaroo Care to interested mothers and families with young children. This involved me getting help from some of my other colleagues to demonstrate how to position their babies using KMC. I was also able to speak to several families and get their accounts on their own experience with Kangaroo Care, and how it has helped their babies.
During the event I was also wearing a really cool hairband with Kangaroo ears which was one of the many hairbands made by our lovely RUMC team of volunteers! I also had a chance to meet the very enthusiastic staff from Penang Adventist Hospital, who were promoting several booths for the occasion, including Dr. Pong Kwai Meng (consultant Paediatrician & Neonatologist) who came to visit our RUMC booth to give us support!
Overall, the chance to promote Kangaroo Mother Care was a success, as we managed to speak to several mothers regarding the benefits of KMC.  It was a very fun and valuable experience, and I would definitely love to volunteer if I was given the chance to do so again. 
(Jezzdin Carr Alif Carr)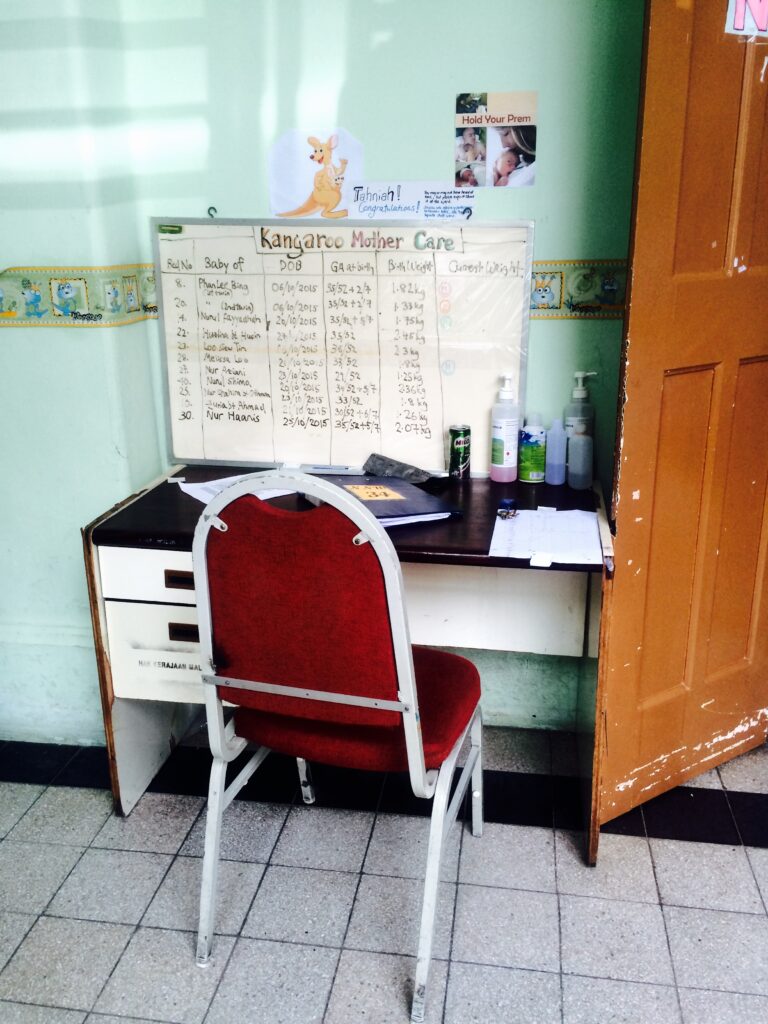 A week with Kangaroo Mother Care 
My first exposure in assisting parents to perform KMC left me wanting to learn more about it. So, during my medical training I enrolled myself into a KMC course and spent an entire week with parents who had been selected to start KMC. Besides assisting and talking to parents about KMC, I wrote down the list of babies that are benefiting or able to benefit from KMC onto a whiteboard in the ward. Almost immediately, this action raised curiosity from mothers who passed by. A mother to a term baby, was excited to find out that what she and her husband were doing, that is practicing skin to skin contact and direct breastfeeding was actually a part of KMC. She agreed that KMC had brought them together as a family and helped in calming their baby. I also took opportunities to chat with other mothers. From conversations, I realised that the sharing of mothers' experiences is most valuable in promoting KMC to other mothers. A peer support is created and mothers would appreciate the importance of performing KMC together. Therefore, giving mothers or fathers opportunities to perform KMC is important and this could be achieved by effective communication between healthcare staff and the mothers. I am fortunate that during that week I was a part of the communicating team, addressing the question 'What is Kangaroo Mother Care?' and helping parents to realise that the mother kangaroo and its joey images pasted on the walls are not just a symbol of mother-infant bonding. 
(Teng Jo Ann, RUMC Medical student C2016)