KMC is when the skin on your baby's chest and tummy is in prolonged contact with the skin on your chest.  Baby is placed between the breasts of the parent skin-to-skin (except for diapers.) 
The picture below shows the parents of newborn twins performing KMC. As you can see fathers can also perform kangaroo mother care. 'Skin-to skin' means nothing between baby and parent. Mum and Dad have removed all their clothing including their underclothing, and placed the baby on their skin. The baby is held in place with what we call a ''pouch'' or ''wrap''. For privacy parents then wear something such as a loose blouse or shirt on top. We call it kangaroo mother care because it is like a mother kangaroo and her baby kangaroo or joey in the mother kangaroo's pouch skin to skin. 
How long?
We do this for at least one hour each time but the longer the better, as long as the parent and baby are both enjoying it. Baby can go off to sleep, or he might latch on to Mum's nipple and start feeding. Some parents will wear a ''pouch'' so the baby is safe from falling and they can walk around with the baby in place. If the parent does not want to walk around, KMC can also be done without a pouch. 
When you go for your antenatal check-up, you can ask your doctor if you can start kangaroo care right after the baby is born.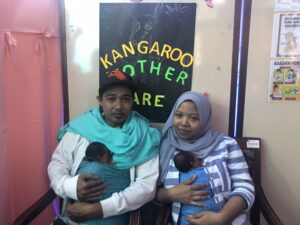 Improving KMC awareness in Malaysia and the region
KAMY was established in 2017 as a non-profit, non-government organization to promote KMC awareness more widely and efficiently in Malaysia.
In 2022, the Kangaroo Mother Care for Parents in Malaysia (kangaroomothercaremalaysia.net) webpage is created. 
This webpage is intended primarily to provide factual information about the benefits of KMC and how KMC is done.  It also intended to serve as a platform for parents, community and healthcare workers in Malaysia to come together to share their experiences and views about KMC. 

Under the leadership of Dr Socorro Mendoza from the Philippines, this network was formed to support and promote KMC in the Asia-Oceania region. Participants from this network share and keep each other updated on KMC practices.
For all babies and by all family members
KMC is moving away from just being a means of saving preterm babies lives, towards a normal practice for all babies, improving early life experience of all babies. It is also moving towards KMC by the whole family such as mother, father, grandparents and older siblings.
Family centred care
KMC has an important role inthe concept of family centered care where the family is central in the care of the sick newborn baby. It brings opportunity for family to be involved in the care of babies while in the hospital. This has sparked the concept of mother-baby intensive care units whereby the mother becomes the baby's incubator right from the beginning. This enables the duration of KMC that the baby receives to be very much longer.